5 Quick Lessons in Marketing Your Real Estate Blog (Don't Make These Mistakes)
Posted on February 3, 2012
"Instead of one-way interruption, web marketing is about delivering useful content at just the precise moment that a buyer needs it. – David Meerman Scott, Marketing Strategist & Author of The New Rules of Marketing & PR
Most Agents start a real estate blog with the intent of using it as their primary lead generation tool. Yet often times, design and marketing are treated as an after-thought.
"Just write good content" is the advice most people will give you. And although yes, that's an important ingredient, it's not the only ingredient.
So today, I thought we'd review some big picture concepts as reminders for things you need to consider when marketing your real estate blog…
5 Quick Lessons In Marketing Your Real Estate Blog:
Lesson #1: Write for your customer (not the industry) first. 
Your customers have one of several questions:
What are some homes for sale in [insert neighborhood] between [insert price range]?
What are some of the best schools in [insert neighborhood]?
How's the market in [insert area]? What's the average sales price? What's the average Days on Market?
How do I determine how much I can get financed for?
Those are specific questions addressing specific needs of a typical client. Your writing should address those needs first and foremost. Basically, you need to write for your customer.
Writing and pontificating about what's going on in the industry is all good and gravy, but if you're not answering your potential customer's questions first, you're losing business. Period.
Lesson #2: Make your website easy to navigate. 
Do you know why you have such a high bounce rate? Meaning, why people are coming to your website and quickly leaving?
It most likely has to do with how difficult it is to navigate. Most consumers are impatient (I'm one of them). If I can't find an answer to a question on one website, I'm clicking away onto the next one.
If site visitors are unclear about where to click or where to go next to find the information that they're looking for, you've lost them.
Lesson #3: If you want people to use your IDX map search to search for homes, and register, you need to make it obvious how to do so. 
Often times when I'm on the phone with a real estate agent, they'll say to me, "Hey Ricardo, can you go to my website really quick and click on my home search?" 
I say, "Sure… Ummm…where is it, I don't see it?" 
And I'm in the industry! I seen hundreds if not thousands of real estate websites and I know what most IDX searches look like. If I was confused about how to access the home search, how do you think the average site visitor feels?!
The point here, is that you need to make it blatantly obvious over where to click to begin your home search. Otherwise, again, you're losing potential new business.
Some key places to insert a IDX search form or link to your search is:
On the upper right-hand side of your site – the very first item of your sidebar.
Put a link to your IDX search page in your site's navigation – it should read: Search for Homes.
You can create a search form that stretches from left to right of your site's width, just below the header.
Basically, anywhere above the fold, and where it's the first thing site visitors will see.
Lesson #4: If I have a question about a specific property, how can I get a hold of you? 
Put yourself in a site visitor's shoes for a moment. You're on a real estate website looking for homes and so far, you see a few homes you like. Suddenly, you have a question about a specific property for sale. You've spend more than 20 minutes on this website, you're not working with an Agent, so you figure hmm…I'll just call this Agent.
But when  you go to look for a phone number, nothing. Nada.
The About page reads: Welcome to WordPress, this is an example of an About page.
The Contact page doesn't have a phone number listed and the contact form is broken. Furthermore, there's no phone number anywhere on the header, footer or sidebar of the website.
What do you do? Do you still continue to search? Or do you call it quits?
Before you start to think this scenario is a little far-fetched, I'm sorry to say that it happened to me. I was trying to contact this Agent (regarding something else), and I couldn't find a contact number anywhere.
If your goal is to reach consumers and engage in conversations about real estate to try and make a sale, make it easy to get a hold of you!
Lesson #5: Just because you built it, doesn't mean they'll come.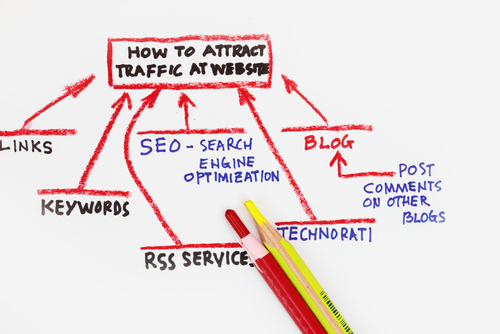 Most people think building an awesome website and writing great content is all you need to do. And nothing could be further from the truth.
In the beginning, you need to spend almost as much time promoting your content as you do writing and creating it.
Part of it is making sure that your posts are optimized for SEO. The other part is sharing your content with your database through emails, and sharing your content through social media. Not in a "Look at me! Look at me!" sorta way, but in a way that's helpful to others so that they keep coming back to read your content frequently.
Over to you…
What would you add? What's your best advice to newbie real estate bloggers looking to market their real estate websites?